Getting Familiar WIth Our App 2 Continued:
YOUR COMMUNITY
Moving down the screen is The Pack. This is our community where you can ask questions, post updates, motivate others and generally hang out. Jump in and say "Hi."
YOUR PROGRESS
At the bottom of the screen you can see your PROGRESS. This will look pretty blank right now but as you move through the program marking things complete this will start to look a LOT better.
Moving away from the Home page
WORKOUTS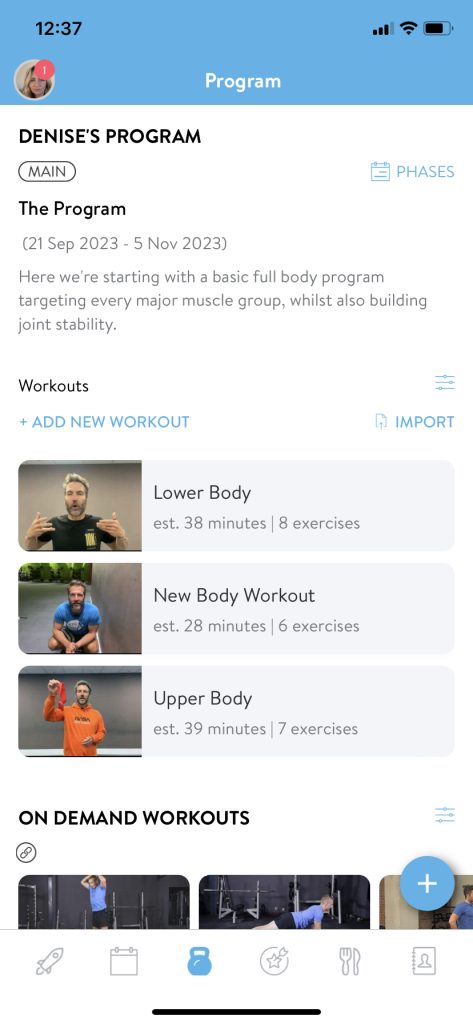 If you click the Workout Tab (The Kettle Bell Icon) you'll see all the exercises you're going to be doing this week.
Each exercise has a video detailing exactly how to perform it.
When you want to perform a workout click start and you'll be able to record what you actually do so we can both can see how you're doing.
This workout will update every week as you progress through the program. We'll also use your weekly and monthly checkins and the Group Coaching sessions to personalise the workout to you and your goals.
If you're worried you're not doing the exercises right just record a quick video of you doing it and send it to me. I'll check it out and give you feedback.
ON DEMAND WORKOUTS
If you scroll down on the Workouts page you'll see your On-Demand Workouts. You can access any time if you feel you want to change it up. I recommend staying away from these for the first month or so of the program as they can interfere with the initial phases of the program.
ON DEMAND WORKSHOPS
in the same place as the On Demand Workouts you'll find your On-Demand Workshops. Again these can be accessed at any time. They cover a HUGE variety of topics and we are updating them and adding new ones all the time. If there's something you'd like to see covered which isn't currently there just let us know and we'll see f we can add it.
CALENDAR
The calendar tab shows how we've planned your week, you can move workouts around in here but can't delete them so if you need to move days to suit your schedule feel free.
MEAL PLAN
The knife and fork icon shows your Meal Plan. Dive in there for your tasty recipes.
THE LIBRARY
You also get access to The Library a curated archive of all our best content and protocols this can be accessed by heading to our webpage at reignitemy.life scrolling down to the bottom and clicking the Library link, the password is ReIgniteAcademy.