OUR APP
Now I'll run through your Home Screen and explain what everything is.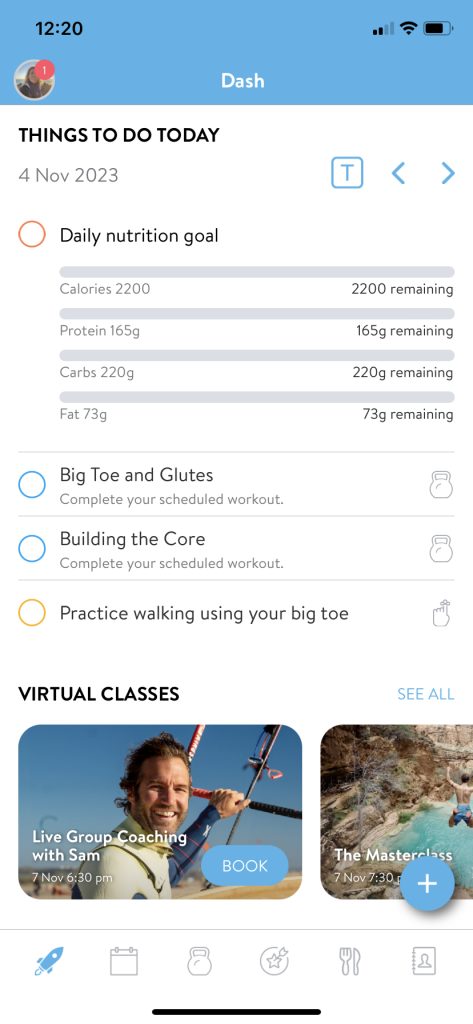 At the top under your THINGS TO DO TODAY are all your workouts, habits and other things to do today. Click on them for more information and mark them as complete when you've done them so we can both track your progress.
Moving down the page are all the CLASSES you can attend. As an Academy member you get access to Live Coaching, The Masterclass, Backstage Pass and the Member Makeover.
LIVE GROUP COACHING
The most important part of the whole program. As they are where you get the chance to ask me your questions in person and live. I really can't understate the power of this and even if you don't think you have any questions I guarantee you'll learn loads and get a lot more out of the program by attending. To save your seat on these sessions head to the home screen and click the Book button on the Group Coaching banner.
MASTERCLASS
Once a month we dive a little deeper into one of the modules on the program so you get even more insight in to how it really works. I'll announce this months topic in The Pack during the week
BACKSTAGE PASS
This is where I show you how I'm implementing whatever it is we talked about on the Masterclass so you can see a real world example.
MEMBER MAKEOVER
This is where we put one of you in the spotlight and talk you through how you can get over a challenge you're having we try to make these to do with the monthly topic just to keep things consistent.